Garosu-gil Road of Sinsa-dong, which was known as the street of artists since the past, has now reformed into the hub of Seoul fashion.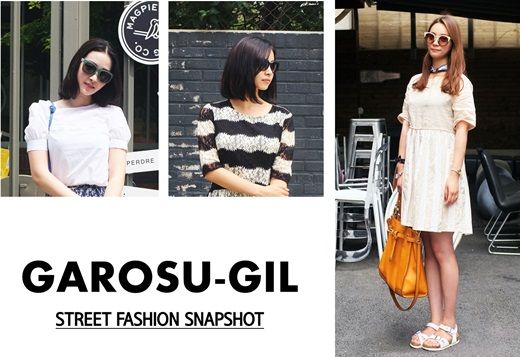 All Photo Credits: Tandy, Bando Optical, Tedora
Referred to as the shrine of 80's art works, Garosu-gil Street firstly became famous as the boulevard of art galleries. Later as fashion education institutions emerged one after the other, it was reborn as a designer's street while its fashion related image took shape as designer shops opened one after the other.
Based on this history, a formula that Garosu-gil Road's street fashion leads the trend has come into existence since a few years ago. For those who are having difficulty in this summer's styling, turn your eyes to the street fashion of Garosu-gil Road. From now on let's look into the hot items of Garosu-gil Road's fashion people.
1. Creative Accessories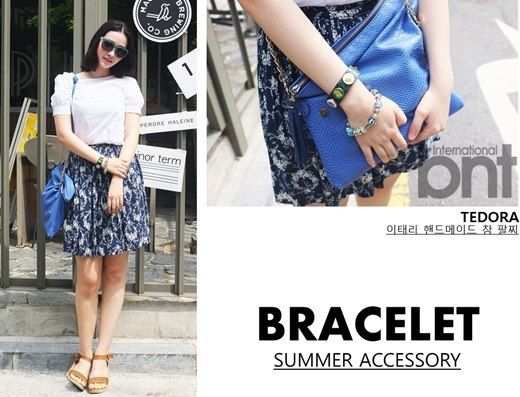 All Photo Credits: Tandy, Bando Optical, Tedora
The item that can relieve monotonous summer styling definitely starts from accessories. If the bare skin exposed from the shortened sleeve length seems awkward, at least a bracelet can become a fashion point. Especially for women, the scope of choice in accessories is wide which allows its presence to have vivid impact.
A university student blogger Lee Sung Hee (undergraduate, 22) said she would choose bracelets if she had to choose only one accessory for summer styling. The strength of bracelets is that it can be put on freely and especially charm bracelets are able to be customized in the way she wishes.
The Tedora bracelet she is wearing is a charm bracelet manually made by an Italian master artisan. Although it was recently officially released in the country, it is already rising as a hot item among fashion people. Tedora, which has already enjoyed popularity in Italy as well as all of Europe and the Americas, has been launched in Korea for the first time in Asia.
If you want to show off your unique individuality from a plain style, such unique bracelets are recommended. Especially a bracelet that holds a brand story and identity can lighten up your wrist every summer without getting tired of it.
2. Coming Down From High Heels And Walking The Ground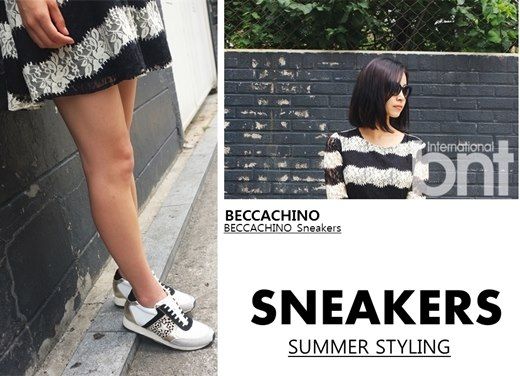 All Photo Credits: Tandy, Bando Optical, Tedora
There are an increasing number of people who are taking off their high heels in summer when frequent outdoor activity exists. Especially, sneakers always appear in the styling of unrefined and free-spirited street fashion.
University student Kim Ji Su (undergraduate, 24) coordinates practical fashion. By similar color matching here, a generally comfortable look is shown. The sneakers are a product of Beccaccino, which is a brand that a famous handmade shoe house called Tandy is developing.
High heels guarantee femininity but do not take responsibility for foot health. Especially for those who center practicality among the values of fashion and judge, sneakers can become a perfect alternative for high heels.
Sneakers boast of natural harmony between various looks. Although some insist the symbolization of kill heels when it comes to women, current trend setters show the best sneakers styling as if they were offering a rebuttal.
Though there isn't an answer to fashion, sneakers are gently recommended if you want to complete your own unique styling. Because a comfortable fit and unique style is attainable, there cannot be a better choice than this.
3. A Special Way To Confront The Sun
All Photo Credits: Tandy, Bando Optical, Tedora
The season of sunglasses has definitely come back. UV rays that this summer also cannot avoid should be confronted by sunglasses so that wrinkles between the brows are protected. Beneficial to the health of the eye and playing an indispensable role in styling, sunglasses are a helpful and dutiful summer item.
University student Jang Min Ji (undergraduate, 21) whom usually favors using sunglasses has her eyes on Cat's eye frame as this summer's sunglasses style. Though it may seem plain with a color tone in the beige color series, Cat's eye large frame sunglasses clearly show off its existence. The product is of Paul Hueman from Bando Optical.
Such a frame of unique design is capable of various styling according to face shapes, thus purchasing it after wearing it in person is recommended. Taking that most Koreans have egg-shaped or round face styles, Cat's eye style presents chameleonic coordination.
There are no fixed styles in real way street looks but to perform leading styling like this, fashion points are certainly needed. How about paying attention to accessories if differentiation this summer is in for a challenge?