Trends in K-pop are fickle, season-bound birds. However, a few stay around for surprisingly long periods. Bags are the highlight of every outfit and a girl's most important accessory. So after watching an endless stream of New York Spring 2015 RTW runway shows, here are the bag trends from 2014 that will be extended into 2015. So that you can follow the trends, below we have some affordable bags that are bound to be a hit this upcoming season. Happy shopping!
Hanging Motif Bags
Credit: Brunomagli & Fendi
Hanging motifs became a hot issue in 2014. Designer bags suddenly acquired bright tassels, chains, bejeweled accessories, charms, etc. Giving your bag an extra personal touch became stylish. Many brands continued this trend in their new 2015 bags. Fendi added feathers and smaller couple purses (see above), Trussardi added traditional hanging keys, Marc Jacobs added large body tags, and Anya Hindmarch clipped on chunky tassels. Below we have some bags with adorable accessories.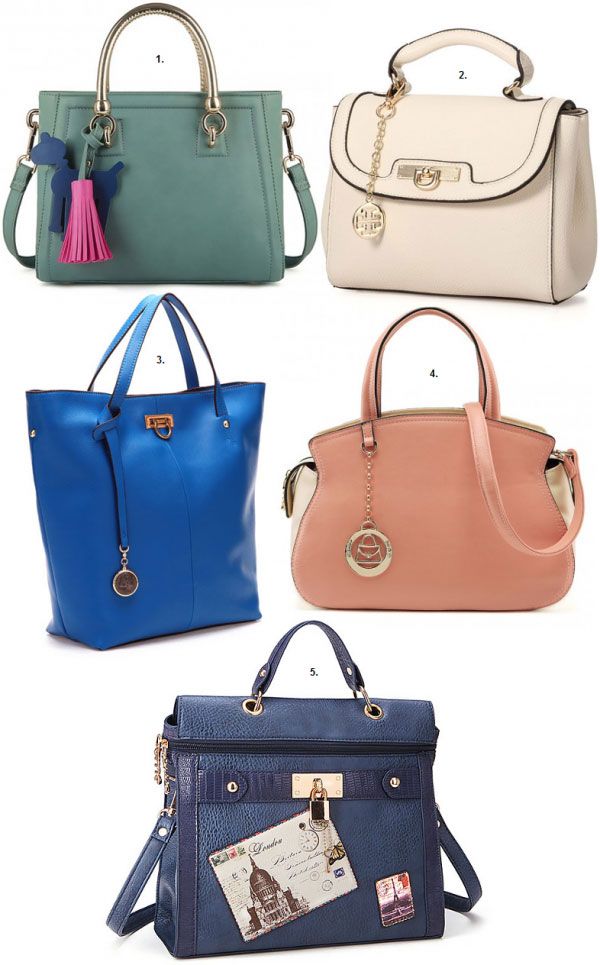 Credit: Chic Nova, StyleMoi & Modcloth
1. Tote With Horse Tag $57.20 ($45.77)
2. Faux Leather Shoulder Bag ($46.00)
3. Blue Leather Shopper with Metal Lock ($182.00)
4. Saddle Tote With Gold Tone Medallion $49.43 ($42.43)
5. Backpack With Post Card Patches $57.20 ($43.43)
Cartoonish Bags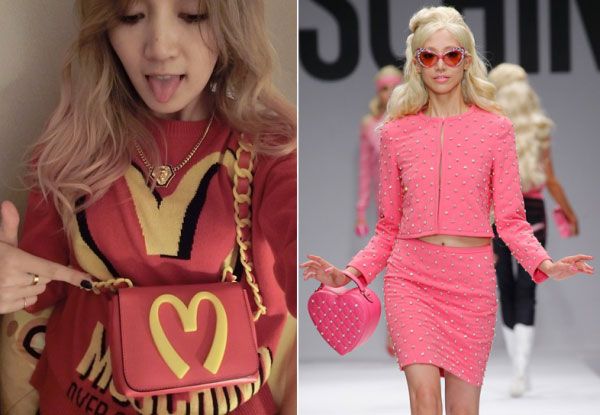 Credit: Jia's Instagram & Moschino
Cartoonish bags are very big this year. The most popular purse used by female idols is the Moschino "McDonald's" macaroni chain bag pictured above, which has been worn by 2NE's CL, miss A's Jia, and Son Dam Bi. Odd and comical bags in various colors and shapes graced the Spring 2015 runways. Céline had round-shaped bags with bells, Fendi had backpacks with mohawks and eyes, Kate Spade had an adorable snail clutch, and Moschino had handbags shaped like candy-colored cameras and hearts (see above). Below we have some goofy and fun bags to create a quirky vibe for your look.
Credit: Chic Nova, StyleMoi & Modcloth
1. Cute Style Watermelon Shape Shoulder Bag ($94.00)
2. Street Fashion Clock Shape Tote ($94.00)
3. PU Hedgehog Shaped Backpack Bag ($58.00)
4. PU Leather Lip Shoulder Bag ($33.00)
5. Eyes on the Fries Pouch ($44.99)
6. Japanese Style Eyes Wallet ($34.00)
7. Lots of Purr-sonality Bag ($49.99)
Metallic Studded Bags
Credit: 1st Look & Rebecca Minkoff
The EXO members are the poster boys of metallic studded backpacks. This is largely do to their collaboration projects with the MCM brand, and their multiple photoshoots and videos promoting the jagged, leopard-print accessories. Rebecca Minkoff, another K-pop favorite worn by practically ever Girls' Generation member, has taken the studded trend a more feminine route in her Spring 2015 RTW collection (see above). Below we have some affordable bags that continue the sparkly and slightly dangerous trend.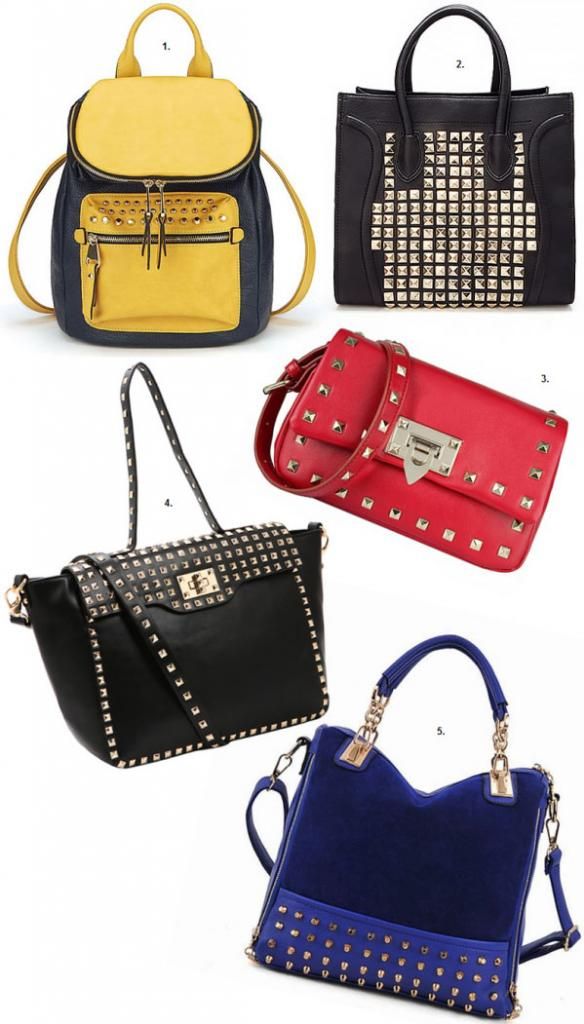 Credit: Chic Nova, StyleMoi & Modcloth
1. Colorblocking Backpack $64.20 ($45.77)
2. Trapeze Tote With Metal Stud Panel $73.53 ($43.43)
3. Metal Studded Mini Shoulder Bag $39.87 ($26.10)
4.Tote With Metal Studded Panel $56.50 ($50.20)
5. Blue PU Square Bag with Flannel Panel and Rivets Detail ($45.00)
Circular Bags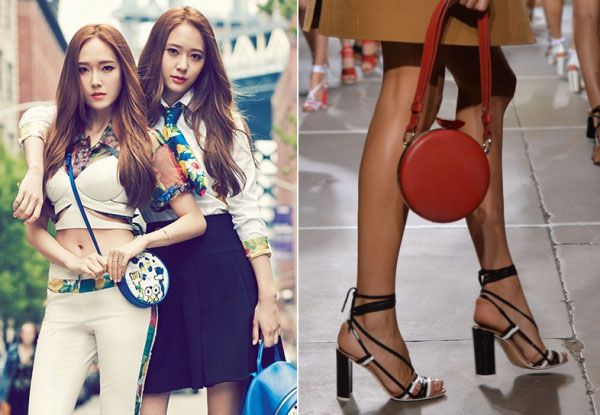 Credit: 1st Look & Topshop Unique
Circular bags were a staple in Korean magazine pictorials in 2014. They were the epitome of summer and whimsical. The Spring 2015 collections are bringing the shape back! Topshop Unique made a business-ready circular handbag (see above), Marc Jacobs dedicated his entire collection to modernizing the shape into contemporary art, and BCBG turned the accessory into a tiny ball of blue satin. To shop circular purses look below!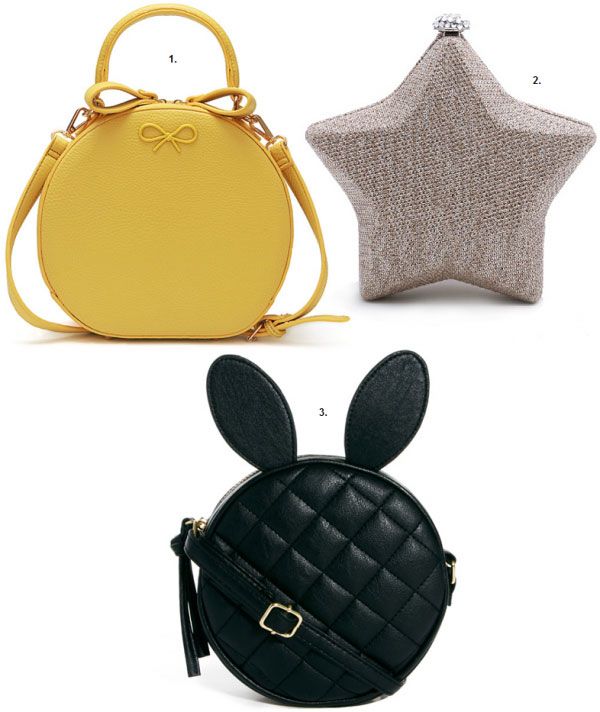 Credit: Chic Nova, StyleMoi & Modcloth
1. Candy Tote With Ribbon Detail $49.43 ($40.10)
2. Star-shaped Diamante Mini Purse ($48.00)
3. Cute Rabbit Ear Bag ($29.00)
See-Through Bags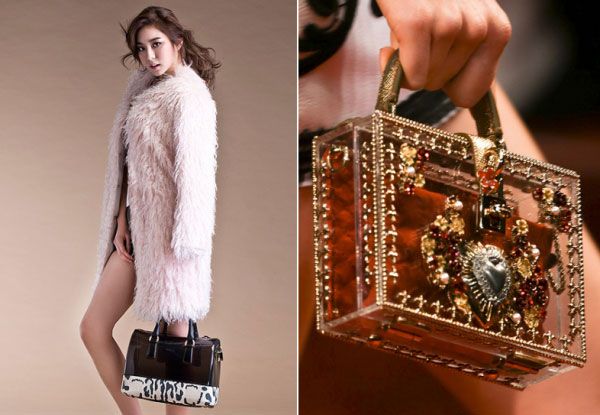 Credit: BNT International & Dolce & Gabbana
See-through bags are used as signatures of casual, chic style. For the Spring 2015 runway, Dolce and Gabbana has elevated the trend by going all gold, couture, and clear (see above). So if you want a purse that transitions well from day time to night, check out the affordable bags below.
Credit: Chic Nova, StyleMoi & Modcloth
1. Sheer Jelly Bucket Bag ($190.00)
2. See Through Bag With Metal Studs $59.53 ($43.43)
3. Lace Print Lucite Box Clutch ($44.99)
4. See Through Bag With Chain Straps $44.77 ($35.20)
Fur Bags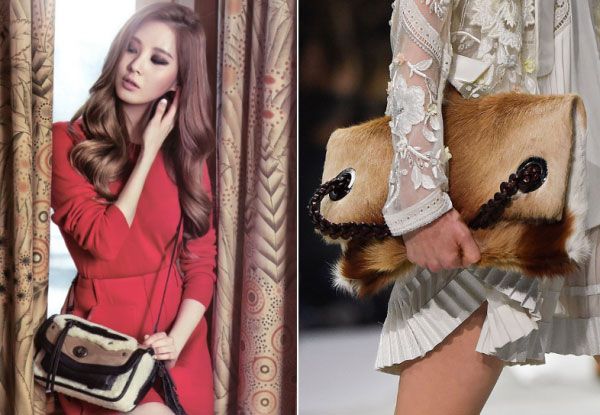 Credit: InStyle & Roberto Cavalli
Fur never goes out of style. The Spring 2015 runways continued the trend, coupling shiny metal accents with multicolored fur patterns. Roberto Cavalli had slender, rectangular fur clutches of light shades of brown (see above), and Fendi tried a pocket-sized look in beige before sending a gray fur monster backpack down the runway. This trend is all about dressing down and letting your accessory speak for you. Below we have some fur-trimmed bags and a trusty wallet.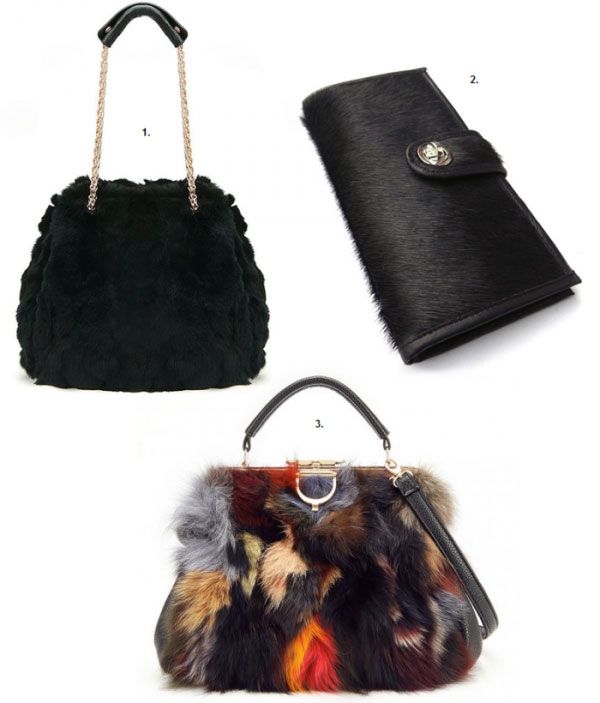 Credit: Chic Nova, StyleMoi & Modcloth
1. Rabbit Fur Bag With Gold Chain Straps $82.10 ($63.43)
2. Horsehair Wallet with Twist Lock ($124.00)
3. Multi-Color Fox Fur Bag $79.53 ($63.43)
Source: KpopStarz